Three teens were involved in a single car accident Tuesday morning  when their vehicle went left of center and rolled over a hill at approximately 7:15 a.m.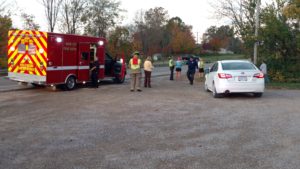 New Concord Fire Chief Brent Gates said he believes the accident occurred when the driver of the vehicle over-corrected while heading eastbound on State Route 40 in Norwich near mile marker 22.
Gates said the vehicle was practically unidentifiable due to the extent of the damage, but added that the vehicle was a Jeep.
The teens involved were evaluated on the scene for minor injuries and were taken to the hospital by their parents.
Gates confirmed that the teens were on their way to school. All three students attend John Glenn High School.