The New Concord Fire Department hosted the 58th Annual Firefighters Festival July 7-8.
New Concord Fire Chief Brent Gates said despite the poor weather, he was satisfied with the turnout.
"The rain hurt us a few times but the people come back," said Gates. "Our crowd was a little sparse Friday evening…but other than that we did fine."
HB7's Celebrate New Concord performance was originally canceled early in the evening due to weather until Gates helped convince them to play for those who waited out the rain. The performance was delayed two hours and concluded just before the firework show at 10 p.m.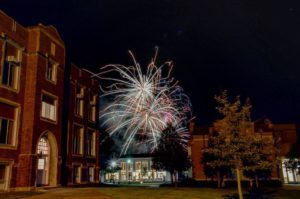 Gates said he was also pleased with the support for the Saturday events, adding the Friday events are usually the festival's biggest. According to Gates, the John Glenn High School track team's 5K walk/run event on July 8 was "one of the largest" they have ever had.
"Other than [the weather], it was a success," said Gates. "Great support and we can't say enough about our community."
Gates said in June the money raised during the festival goes toward new equipment, such as the John Deere Gator purchased in January 2017.
"There's some equipment suggestions that we've put out there," said Gates. "Different things that we need that our budget can't afford at this time to purchase…. Hopefully we can raise some money and purchase one of those items."
Gates said a final tally on donations won't be available until next month once all donations are collected and bills are paid.