WMCO DJs and management students, Héléna Gladman and Karysa Kent, delivered WMCO Weekend donations March 31st to The American Red Cross of Muskingum Valley, The Animal Shelter Society, Inc., and Christ's Table for Mid-Ohio Foodbank. The "Shave to Save" event additionally raised proceeds benefiting CancerCare.
Thank you to the New Concord and Muskingum community for helping us raise $670 and 139 pounds of food this year. This brings our WMCO Weekend 8 year totals to $3467 and 2371 pounds of food raised for charity since 2008!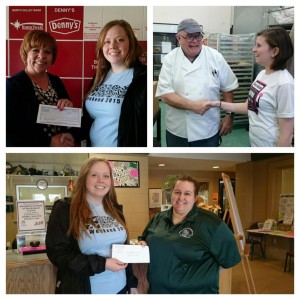 Thank you to our #WMCOWeekend underwriters:
AVC Communications, Canal Cargo, Colonial Cottage, EagleSticks Golf Club, Fink's Harley-Davidson, John's Barber Shop, L and D Sales and Service, L-N-L Western Outfitters, Muskingum University Student Senate, NCAARD, Storied Rivals Sports Media, Terra Cotta Vineyards, The Bees Knees Carhartt Store, Whitesides of Cambridge, Inc.